I tell you the truth, if anyone says to this mountain, "Go, throw yourself into the sea," and does not doubt in his heart but believes that what he says will happen, it will be done for him. Mark 11:23-24 NIV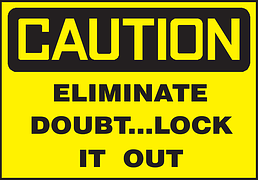 "Stop! You're not going to make it."
"It's okay," my husband said as he struggled to push the refrigerator through the door."
"But the rug is buckled. There's no way you can get over it," I argued, watching as the rug buckled more with each push. In my mind, there was no possible way to get the large appliance past the obstacle.
To my "It's not going to work," he said patiently, "Step back. I know what I'm doing."
How many times have I—in so many words—said the same thing to God? "Stop! This is not working. I'm not going to make it. Let's try Plan B."
The good news is that whenever my doubt takes over, the Lord patiently whispers, "Step back. I've got this. I know what I'm doing."
When things look impossible in the natural realm, that's when God does His best work. He steps in and supernaturally takes care of the problem. He's the God of all power (omnipotent), all knowledge (omniscient), and unlimited creativity. He always makes a way when there seems to be no way. He takes the foolish things of the world to confound the wise. He also says, For as the sky soars high above earth, so the way I work surpasses the way you work, and the way I think is beyond the way you think.
When I finally listened to my husband and stepped back, he methodically brought the refrigerator through the door without a hitch. He knew exactly what he was doing, even when I could not see or understand.
In the same way, when I step back and allow God to take control, He shows me He knows exactly what He's doing, even when I don't get it. He dissolves my doubts. That's what faith and trust is all about.
Are you dealing with doubt? Take a step back and let God go to work.
(Photo courtesy of pixabay.)
(For more devotions, visit us at www.christiandevotions.us.)
---
---