So they read in the book in the law of God distinctly, and gave the sense, and caused them to understand the reading. Nehemiah 8:8 KJV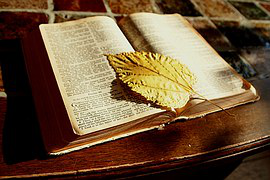 When truth is defined as what the largest number of people believe and who can outshout others and repeat lies to control the message, the result is distrust of leadership.
God's character and words are unchanging. Long ago, God chose Israel, delivering them from bondage in Egypt and living among them for forty years in the wilderness. He supplied them with food and water and kept His promises to them, but they wanted to associate with neighboring heathens. Their actions brought God's judgment. For seventy years, Babylonian kings held them captive until God moved a Persian king named Cyrus to let a remnant return to Jerusalem.
When the exiles arrived in the Promised Land, they saw their city burned and dusty. Ezra, one of their leaders, wanted to rebuild the temple and reinstate sacrificial worship. Nehemiah arrived fifty to sixty years later and rebuilt Jerusalem's walls.
Both Ezra and Nehemiah led great revivals. The people gathered in the street before the Water Gate where Ezra stood on a pulpit and read the Law of Moses. When he opened the scroll, the people stood and blessed the Lord. Ezra brought understanding to their minds, and God's truth came down like rain on parched soil.
Ezra's hearers hadn't been able to practice their religion in a foreign land and had thirsty souls. The returning exiles were from different generations. The elderly missed Solomon's magnificent temple. Perhaps the young had heard stories of Israel's past, but they never saw Jerusalem's glory days.
God is the "fountain of living waters." The truth of His Law satisfies thirsty souls. Truth touched the exiles' hearts and washed them. Fasting brought confession of sin. They wept and worshipped the true God, and then kept the Feast of Tabernacles for seven days.
God is gracious, merciful, and the source of all truth. Come and drink of the water of life.
(Photo courtesy of pixabay.)
(For more devotions, visit us at Christian Devotions.)
---
---