Repent, then, turn to God, so that your sins may be wiped out, that times of refreshing may come from the Lord. Acts 3:19 NIV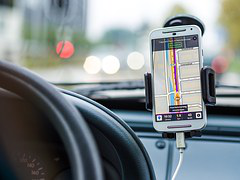 "There's an app for that" has never been a truer statement than now.
Recently, my daughter showed me a phone app that allows you to correct photos. If you look a little too chunky in your picture, you can gently chisel your cheeks to give a slimmer appearance. Have under eye circles? Just wave the correcting wand in that area and poof ... no more circles. Freckles on your face that you detest? Get rid of them with a touch of a button. Want different colored eyes or a prettier nose? You can change those too. Any imperfection you dislike can be eliminated by the features on your phone or computer.
After playing around with this app with my daughter, I pondered, Wouldn't it be nice if there was an app for your heart? This app would take care of all those unwanted heart issues. Anger, greed, distrust, or any hidden sin.
But I don't need an app to handle my heart impurities. As a born-again believer in Jesus Christ, I am assured He has already paid the debt for my sins by His blood shed on the cross. God completely wipes away our imperfections if we repent and turn to Him. Forgiveness that leads to refreshment of our hearts and deep cleansing can be ours. No app needed. All we must do is ask. Once we receive forgiveness, we must cling to God so He can continue to help us overcome our sin.
So for now, there's not a magic app for matters of the heart. But I'm so thankful God loves me enough to take care of my heart like no other can. As I learn the process of confessing my sin and leaning on Him, my heart is growing as I never imagined.
Rather than turning to other things, turn to God for matters of the heart.
(Photo courtesy of pixabay.)
(For more devotions, visit Christian Devotions.)
---
---