To everything there is a season and a time to every purpose under heaven. Ecclesiastes 3:1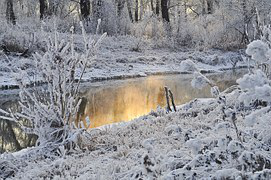 Wouldn't it be nice if time could be frozen?
Kathy called her daughter and complained, "Someone stole my alarm clock."
Her daughter laughed loudly."Mom, that alarm clock is so old no one would steal it. You've simply misplaced it."
"Okay, fine, I'll look for it."
Kathy searched for it most of the morning. Finally, when her stomach growled, she decided it was time for lunch. Making her way into the kitchen, she opened the fridge where her eyes locked on a familiar object. On the bottom shelf sat her alarm clock. She didn't remember putting the clock in the fridge, but she knew only she could have done it.
When she told me, we laughed. Some other friends asked if she was trying to freeze time. Their remarks made me wonder how many times I've wished I could have frozen time.
I thought of times when I should have frozen my words and never let them escape. Or when I've cringed while watching others struggle with growing older.
As my children grow and mature, I find myself wanting to freeze them back in time. I want more time to laugh with them and teach them about God's wondrous love. I want to freeze them again as children when it was easy for them to believe and trust God. When they didn't wonder if God had forgotten or abandoned them.
I would also like to freeze my life in the moments when I can feel God so near that His love overflows my heart. And when trials come, I'd like to freeze time and return to the moments when I could feel God carrying me.
While it's impossible to freeze time, I can know God has walked with me in the past and will in the future. In my heart, I feel His love cover me, freezing me in time as He holds me in His everlasting embrace.
Let God hold you in His arms. There you can face your fears, shortcomings, and future—whatever it might hold.
(Photo courtesy of pixabay.)
(For more devotions, visit Christian Devotions.)
---
---