Let us not become weary in doing good, for at the proper time we will reap a harvest if we do not give up. Galatians 6:9 NIV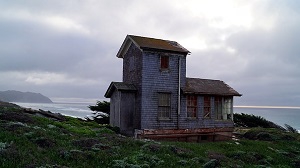 The date was October 17, 1954, and Guy and Bryte Lane were hiking across Oak Island, North Carolina.
Their stroll was not a Sunday stroll. Because the bridge was out, they had to take a makeshift ferry just to get to the island. The roads they had traveled in the past were impassable or obliterated. The majestic oaks that gave the island its name lay in mangled ruin.
Guy and Bryte made their way to Long Beach, where they hoped to find their two-year-old oceanfront beach cottage, Sea Lane, still standing. Two days earlier, Hurricane Hazel had howled ashore just south of Oak Island.
When the couple finally broke out of the trees, they paused in shock. The beach had been wiped clean. Out of the 357 structures that had stood forty-eight hours earlier, only five remained on their foundation. Most cottages were in a jumbled mess, 500 feet from where they had once stood. The hurricane had created a brand new inlet, splitting the island in half.
And so it was with Sea Lane. As Guy and Bryte reached what had once been East Beach Drive, they realized their beloved cottage, like so many others, was gone.
The story could have ended here. Guy could have sold the oceanfront lots he owned and washed his hands of the whole affair. But he didn't. Half buried in the swamp behind the beach, Guy found a surprisingly intact cottage. He contacted the owner, purchased it for $500, hauled it back to the beach, and put it up on deep-driven wooden pilings. There, his wife and their four children painstakingly cleaned out the mud and swamp water.
This new "Sea Lane" provided generations of Guy and Bryte's children, grandchildren (including your humble author), and great-grandchildren with years of memories. All because Guy Lane refused to let a hurricane stand in the way of providing for his wife the beach cottage she longed to enjoy.
Paul encountered constant obstacles as he struggled to fulfill God's will: hunger, thirst, robbery, shipwrecks, snakebite, beatings, stoning, and even a hurricane of his own. Yet he, too, persevered and completed the journey God set before him.
What is God calling you to finish today? Don't let obstacles keep you from it.
(Photo courtesy of pixabay.)
(For more devotions, visit Christian Devotions.)
---
---