My prayer is not that you take them out of the world but that you protect them from the evil one...I pray also for those who will believe in me through their message. John 17:15, 20 NIV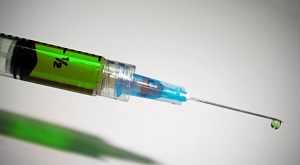 One of the most unnerving trips for children—and some teens and adults—is to get routine immunizations.
The antiseptic smell, the caring but professional manner, and the cleaning swab mean the dreaded needle will soon follow. Although many put on a brave face, they want to run from that spotless room as fast as their legs will carry them. Although they fear the shot, their parents say they need it. That moment of pain prevents life-threatening illnesses.
Immunizations are important because the initial symptoms of many deadly diseases are deceptively similar to less serious problems. By the time we realize we have the disease, it may be too late.
Temptation to sin can also arise gradually, appear benign, but destroy if we don't immunize against its threat. This progression of sin occurred in Achan's life: "When I saw in the plunder a beautiful robe from Babylonia, two hundred shekels of silver and a bar of gold weighing fifty shekels, I coveted them and took them" (Joshua 7:21). Achan saw, coveted, and then took.
We may also see and admire, with admiration gradually becoming much more. Thinking we deserve the happiness temptations offer, we sample them, unaware of their growing power in our lives.
Jesus' words prompt us to immunize against such temptations by becoming so full of God's joy, truth, and power that no room remains for temptation to take root. Sin's lure continues to surround us, but we're securely wrapped in God's protection.
By keeping our immunizations up to date through daily Bible study, prayer, regular worship, friendships that hold us accountable, and service to others, we maintain our goal of good spiritual health.
Jesus' prayer also reminds us that those influenced by our lives benefit from our preventative steps. When we give God control, people see a difference. Although this repels some, others will be drawn to the change they see and desire it for themselves.
If you must be contagious, let it be with God's love, not sin's deceit.
(Photo courtesy of pixabay.)
(For more devotions, visit Christian Devotions.)
---
---