In the beginning God created the heavens and the earth. Now the earth was formless and empty, darkness was over the surface of the deep, and the Spirit of God was hovering over the waters. Genesis 1:1-2 NIV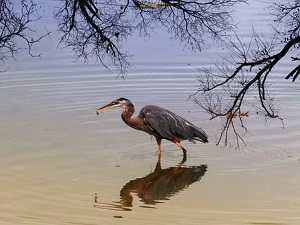 My husband Tim and I walked our dogs by Grant Lake on the night of the blue moon.
As I followed our dog Olive along the bank, Tim asked me something, but I couldn't hear him. He pointed at the lake. When I turned toward the inlet, I saw a great blue heron resting on the water, occasionally dipping his head into the water for a drink or to catch minnows. This ominous bird fascinated me.
As darkness covered day, the bird blended in with the shadows. Tim motioned me to where he stood. The moonlight cut in just enough for the bird to remain in view. As we watched, the great bird spread his wings, lifted off, and flew across the lake. The wingspan looked enormous as he drifted over the lake with power and grace.
Like a great blue heron, the Holy Spirit hovered over the water as God created earth. He accompanied God, just as Jesus did from the beginning.
What a blessing to know God remains close to His people. He moves over the earth in Spirit and dwells in us. The Spirit lives in me every day. He nudges me to serve, gives me direction, comforts me when I am down, and rejoices with me when I am blessed. No matter what the day may bring, the Holy Spirit guides believers.
Spend time reading the Bible to better understand the Spirit in your life. Then, pray and ask God to help you recognize the Spirit's voice and nudges.
(Photo courtesy of pixabay.)
(For more devotions, visit Christian Devotions.)
---
---