So Balaam arose in the morning, and saddled his donkey and went with the leaders of Moab. Numbers 22:21 NASB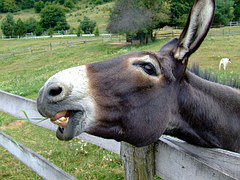 When God speaks through someone who appears ill-prepared or uneducated, take note.
Balaam was intent on following his own path. God had already told him that he should not go to Balak to curse Israel. Although he responded properly at first, Balak's messengers persisted. The enemy does not always take our first refusal as final. Balaam continued to ask the Lord if he should go with Balak. The Lord finally agreed, but just because God permits us to do something doesn't mean He sanctions it. Sometimes He says, "If you want to make a fool of yourself, go ahead."
God demonstrated His displeasure over Balaam's actions by sending an angel to block his path. Though Balaam was a great seer of God, he could not see what his donkey could. Ambition and greed always blind us to spiritual realities. The donkey resisted passing the sword-wielding angel, which only made Balaam angry. Often our hindrances are God's way of protecting us.
Balaam's anger was a sign of pride and independence. He boasted that he was a man whose eyes had been opened, but God used an animal notorious for its stupidity to speak to him. Of course, God delights in using the foolish things to confuse the wise. God can send His message through whatever type of messenger He chooses, but arrogance always diminishes our spiritual perception.
God often uses unusual things to speak to people. He may be trying to teach you through a donkey.
(Photo courtesy of pixabay.)
(For more devotions, visit Christian Devotions.)
---
---