Let the peace of Christ rule in your hearts, since as members of one body you were called to peace. And be thankful. Colossians 3:15 NIV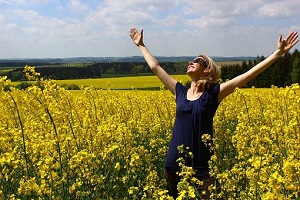 There are days like today. Days when the monsters of the world step onto my heart and smash it like a bug on the concrete. Days when I am not sure I can stand on weak legs. Yet my heart says to be thankful.
Being thankful in the midst of tragedy, illness, or loss is hard. And tell me this. How exactly are we supposed to wave our arms in the air, in the midst of suffering, and shout Hallelujah?My heart screams in agony as illness grabs those I love. How in heaven's name do I say, I am thankful?
When the doctor pinned the cancer label on my husband … and then on my best friend … saying thank you was the farthest thing from my mind.
When I cried with another friend over her son's choices, my heart ached. It tore. We'd once suffered the bad choices of our son. I saw no thankfulness in the pain of watching my child step into the abyss without a rope. Be thankful?
Paul was bent on making the Colossians understand what it meant to walk the higher ground. Set your hearts on things above. Give up those earthly desires. Christ is all in all. He wanted the people to be better and to know greater things existed.
When Paul's words fell upon the most important challenge—let the peace of Christ rule in your heart…be thankful—he understood what it meant to be thankful. Even as he struggled. He completely got the joy and peace offered through thankfulness. Paul knew, because he lived it. And he was thankful for every moment of every day—good or bad, easy or hard. Through that thankfulness, he received peace. The same peace we can have.
Today is hard. I'm NOT angry at God either. I'm grateful. Thankful. Believe it or not, I'm at peace in the storm. I'm not sure how. Even when I have a moment of weakness, I have peace.
Give Thanksgiving meaning this year. Don't claim flimsy words of gratitude, but look into your heart and share your thankfulness for the truth in your faith. Hold to the promises of God.
Rejoice in every situation, and know that God holds you firmly in his palm. Be truly thankful.
(Photo courtesy of pixabay.)
(For more devotions, visit Christian Devotions.)
---
---