When Jesus spoke again to the people, he said, "I am the light of the world. Whoever follows me will never walk in darkness, but will have the light of life." John 8:12 NIV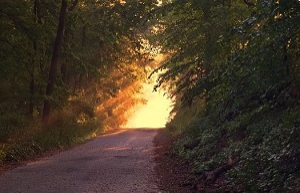 The majority of Americans are Vitamin D deficient.
Vitamin D is a vital nutrient that helps our cells function properly. While found in some foods, the main source is from sunlight. We simply do not spend enough time outdoors soaking up the sun's nutrient.
This calls to mind another deficiency: lack of Sonlight. We don't spend enough time soaking up the Son's light. Just as our cells react to a Vitamin D deficiency, our lives react to the deficiency of Jesus' presence and God's Word. Our lives can be chaotic and our daily circumstances can overwhelm us, but if we spend time soaking up Jesus, these circumstances will not be as bad as they may appear. His presence gives clarity, peace, and hope to tackle any of the day's challenges.
Jesus is the light of the world. A walk with Him brings life. If we follow Him, He will cast out darkness from our life and shed light on what truly matters. Just like the sun, a tremendous warmth resides in the presence of the Lord. We only need to seek Him to find it.
To overcome the darkness in the world, we need our daily dose of the Son's light. This fuels our bodies and our spirits. Read the gospels, and listen for Jesus to speak. He wants a relationship with you and wants you to walk in the light.
Determine what areas of your life need to be illuminated. Then seek out Jesus' presence. He will radiate within your life.
(Photo courtesy of pixabay.)
(For more devotions, visit Christian Devotions.)
---
---