I know your deeds. See, I have placed before you an open door that no one can shut. I know that you have little strength, yet you have kept my word and have not denied my name. Revelation 3:8 NIV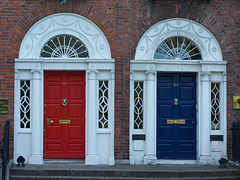 Sometimes it's difficult to wait for God to unlock doors He has closed.
Although I believe Jesus will open the doors He wants me to walk through in His perfect timing, I don't enjoy waiting.
In the book of Revelation, the letter to the church in Philadelphia was one of encouragement. Jesus told them He was the one who could open what no one could shut and shut what no one could open. He knew the Philadelphians weren't strong. Because of that, He protected them by keeping the doors shut they should avoid and opening the doors they should walk through.
When we do everything in our power but doors won't budge, we can be encouraged as the church in Philadelphia was. Jesus knows us inside out. He knows our strengths and weaknesses. Closed doors can be His way of telling us we aren't strong enough to walk through them.
Trusting that Jesus is sovereign over all things helps us deal with the disappointment of closed doors. But I often wish He'd put a big check mark on the doors He intends to open and a big X on the ones He wants to remain shut. Then I could be certain which doors He wants me to keep pounding on and which doors I should turn and walk away from.
Learn to trust God whether He shuts doors or opens them.
(Photo courtesy of pixabay.)
(For more devotions, visit Christian Devotions.)
---
---