Rest in the Lord, and wait patiently for Him. Psalm 37:7 NKJV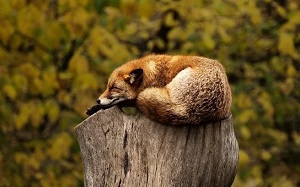 Down the hallway and through the foyer, I hurried as if the place was on fire. Two steps into the sanctuary, someone grabbed my arm. "Slow down. You look like you're in attack-mode."
I was at it again. Focused on the tasks before me as the pastor's administrative assistant, I was oblivious to the people around me who needed my attention. And also unaware of my own need to stop, take a deep breath, and keep myself from getting stressed out. I'm a doer. Not a bad thing when balanced with rest, relaxation, and large doses of fun. The problem is this balance eludes me. I feel guilty when I'm not doing.
Several years ago, I found myself with a lot of time on my hands after two back-to-back surgeries. The latter involved my vision, so I couldn't read, work on the computer, or exert myself in any way. Instead of allowing my spirit, soul, and body a time of rest and recuperation, I fought the downtime. I fretted over the slow healing process, the inability to do anything around the house, and missing so much time at work. Friends told me to stop worrying and to allow my body time to heal. Someone suggested I accept the downtime as a gift. My greatest need was to "rest in the Lord," but I realized I didn't know how.
I asked God to teach me how to be still before Him. In those quiet, intimate moments with Him, I found the acceptance, affirmation, and strength I desperately needed. He drew me close, watered my dry thirsty soul, and showed me my identity is not in what I do—but in who I am as His child.
Jesus is our example. He took time to get away by Himself and rest. He hung out with His disciples, shared meals with His friends, and played with the children.
Becoming ensnared by our own misguided idea of what it takes to please God is easy. He doesn't require us to prove our worth by being constantly busy or by getting lost in the doing—while missing the rest found in simply being. Tremendous freedom resides in knowing we don't have to earn God's love or approval.
I'm ready to rest in the Lord. How about you?
(Photo courtesy of pixabay.)
(For more devotions, visit Christian Devotions.)
---
---