Now when they saw the boldness of Peter and John, and perceived that they were uneducated, common men, they were astonished. And they recognized that they had been with Jesus. Acts 4:13 ESV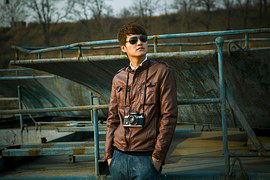 The reality is that I don't want to be identified as a "regular guy."
I enjoy riding motorcycles, exercising, and playing sports. But is the normalcy of these events discounted because of my faith?
Two things people avoid discussing in mixed company include religion and politics. Since I routinely proclaim the gospel of Christ to the law enforcement community and beyond, I wonder if I'm viewed as a regular guy—bold and strong—or a religious nut—weak and foolish.
Disciples John and Peter were fishermen by trade, yet once Jesus transformed their lives, they were anything but normal. In Acts 4, they were taken before the rulers and elders and questioned about their encounter with a crippled man, which eventually led to a healing. After sharing their story, the rulers realized the Galilean fishermen "had been with Jesus." They were not regular guys.
I don't want to be regular either. God is busy working on me, and I hope others benefit from some of the lessons I've learned that I've put in written form. To the surprise of some, I declare that I do not endorse ritualistic religion. According to the prophet Isaiah, my righteous deeds are like a polluted garment (Isaiah 64:6 ESV). The NKJV refers to them as "filthy rags."
Rather, I believe in a relationship with Jesus—one that saves my soul and causes good works as a fruit of my faith. So whether I'm a religious nut or regular guy, the greatest compliment I can receive is this: "He's been with Jesus."
Live in such a way that others will know you have a relationship with Jesus.
(Photo courtesy of pixabay.)
(For more devotions, visit Christian Devotions.
---
---