"I know the plans I have for you," declares the Lord, "plans to prosper you and not to harm you, plans to give you hope and a future." Jeremiah 29:11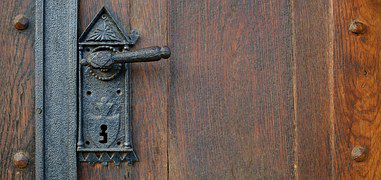 "Why not me, Lord?" That was my question when I heard they went with another candidate.
I had interviewed for a pharmaceutical position. Even though the manger was rooting for me—and all the cards looked like they were in my hand—the regional director did not pick me. I began to question myself, I did everything right. I thought this was my season for open doors. As I sat sulking in my pity party, I heard God say, "I know the plans I have for you ..."
When we look at the big picture, we can see God's plans are always better than ours. He wants to bless our lives with things we couldn't imagine. All He requires is that we trust Him and let Him direct our paths. If He closes a door, there is a reason why the knob won't turn. Don't force it open or even linger around it because He has something far greater behind another door. When I heard His voice, I thanked Him for not allowing the door to open. He knows what's on the other side, and it was not in His purpose for me.
Have you ever asked, "Why not me, Lord?" If you are in His will, then His choice was the right one, and there was nothing you could have done to make the situation better.
Rejoice and thank God that He shuts some doors because He has other doors that will open for your purpose.
(Photo courtesy of pixabay.)
(For more devotions, visit Christian Devotions.)
---
---