Draw near to God and he will draw near to you. James 4:8a ESV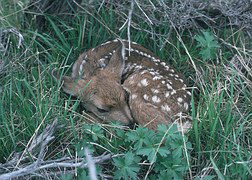 The solution to my dilemma was simple. All I had to do was slow down and get closer to know for certain.
On my way to church one Sunday morning, I saw a fawn poised in front of a tree line on private-owned property. Since I was far away and driving on a highway, it was difficult to know whether it was real or fake. Many deer inhabit the area, but sometimes people use look-a-likes as yard ornaments.
My only personal experience with a fawn was early one morning in my neighborhood. Taking my dog for a walk, I spied a fawn on the shoulder of the road a few feet away from my footpath. Laying in the ditch, it didn't run as a mature deer would have but continued to rest with no fear. Large brown eyes blinked as it observed me, and the white spots on its tawny coat moved gently as it breathed. This time I was close enough to remove all guesswork about the fawn being real.
In our perception of God, sometimes we're not sure if we can believe or trust Him. We wonder if He's authentic or just another phony. But if we get close to Him, we can know for sure.
The best part is that God invites us to come near. He's not an impersonal god who doesn't care about His creation. He didn't make us to do life all by ourselves but longs for relationship and desires to partner with us so we can live our best lives. Knowing we need His help, He has given us the Bible for instruction so we can be close to His heart on a regular basis.
Draw close to God so you can know He is real.
(Photo courtesy of pixabay.)
(For more devotions, visit Christian Devotions.)
---
---