For this son of mine was dead and is alive again; he was lost and is found. Luke 15:24 NIV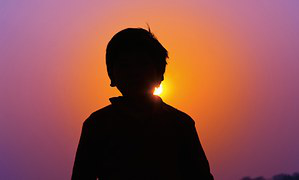 I treasured the ring because it was a birthday gift from my children, but one day I discovered the pearl was missing.
The same day I discovered my pearl was gone, I stopped for a soft drink and opened my billfold for the money to pay with. Imagine my surprise and rejoicing when I saw the pearl lying inside my billfold.
Perhaps my reaction was similar to that of the woman searching for her lost coin. Although she had nine other coins, she was upset because one was missing. When she found it, she rejoiced.
This parable is one of three in Luke 15. Perhaps the best known of the three is about the prodigal son. Because the son wanted to live life his way, he went to a far country where he rejected his father's lifestyle and squandered his inheritance on worldly living. It wasn't until his money was gone and he was starving, that he decided to return to his Father's home.
One day, as he had done many times before, the father looked down the road. He saw a thin disheveled young man approaching. As the figure drew nearer, the father recognized his son. Running down the lane, he threw his arms around the prodigal.
The son may still have had the filth of the pig sty on him. The odor of his environment may have clung to the rags wrapped around his body. But his father loved the prodigal so much that he looked past his appearance and into his son's heart. The parable concludes with the father explaining to his older son why they had to celebrate: But we had to celebrate and be glad, because this brother of yours was dead and is alive again; he was lost and is found.
God is a loving and forgiving Father. He continues seeking the lost and rejoicing when each one returns home.
If you have left God for someone or something else, He invites you to return home.
(Photo courtesy of pixabay.)
(For more devotions, visit us at Christian Devotions.)
---
---