Dear friends, if we feel at ease in the presence of God, we will have courage to come near Him. 1 John 3:21 CEV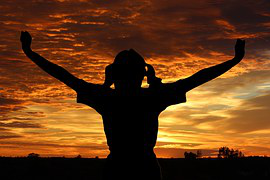 John Wayne said, "Courage is being scared to death, but saddlin' up anyway."
Many have stood in the face of challenges that have been brought on by the economy. Some have felt as if they had the wherewithal to face down a charging horse, stand in an arena with an agitated bull, and pick themselves up after getting thrown to the ground from atop a saddle. But some of life's challenges can cause us to lose our cool and fail in relationships too.
Jack Sorenson, the western artist and cowboy greeting card artist for Leanin' Tree, put it this way, "I didn't have the guts to become an artist; I just had the ignorance … I figured, God gave me this talent, and I was afraid of facing Him one day if I didn't use it."
Courage comes at a time when we must press on despite the circumstances. Diligence is the unwavering effort to accomplish the task at hand. Luke 16:10 tells us if we are faithful with little, we will be faithful with much. For the Lord to work in our lives, we must allow Him to take control. The thought is scary, and many never trust in anything besides their abilities.
God gave His Son so we could communicate with our Creator. To stand in the presence of a Holy God requires confidence that we have a way to approach Him. Allowing Christ to have first place in our life lets us approach Him and be near to Him at all times.
God wants to know us. Let Him know what scares you, what makes you happy, and what your dreams and goals are. If there are obstacles that prevent us from entering His presence (sin), we need to confess and ask for forgiveness.
Be a hero of the faith, and have the courage to stand for Christ in spite of political beliefs or world opinion.
(Photo courtesy of pixabay.)
(For more devotions, visit Christian Devotions.)
---
---