While Jesus was in Bethany in the home of Simon the Leper, a woman came to him with an alabaster jar of very expensive perfume, which she poured on his head as he was reclining at the table. Matthew 26:6, 7 NIV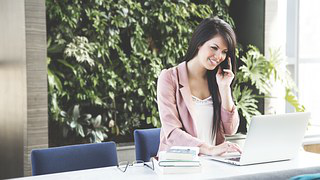 It was a bad day at work.
At a new place, I started my day by asking questions … questions my supervisor didn't want to answer—at least not in the friendly manner I wanted. Her demeanor silenced me, and I bottled my emotions as tightly as I could. Then I saw the face of a girl I'd worked with before.
"How are you?" Her gentle voice was like a soothing balm.
That's when the tears escaped. I didn't have to explain. She, too, had shed tears for this job. To help ease my stress, she handed me a small vile of geranium oil, instructing me to put a drop behind each ear. Her kindness spread like the fragrance of Christ in a world polluted with pride and intimidation.
My coworker's example was like the expensive perfume poured out for our Savior by a woman who baffled a few indignant men. Some considered the woman's gesture to break her alabaster jar a waste of money. But to Jesus, her sacrifice meant everything—a balm for the Healer. The alabaster jar would come to represent Christ Himself. Broken. Poured out. A fragrance permeating the lives of those who would accept Him. The woman had understood His message. She had unwavering faith in His love, a love eventually poured out in His death.
Like the woman, we understand His message when we choose to give what we have to honor Him. Ask the Lord to show you what tangible or intangible gift He wants you to share to express His love today. By His Spirit, allow the aroma of Christ to rise from your heart.
(Photo courtesy of pixabay.)
(For more devotions, visit Christian Devotions.)
---
---