For it is by grace you have been saved, through faith, and this not from yourselves, it is the gift of God. Ephesians 2:8 NIV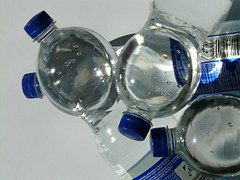 Could I really learn a lesson from a landfill?
We live in the Adirondack Mountains in the midst of beautiful pine and birch trees, and in a quaint town with little traffic. We have everything we need in our town: a drugstore, clinic, library, grocery store, and the best hairdresser I've ever had. But we have to fend for ourselves in some areas. Like collecting our trash and recyclables and taking them to the town landfill.
Since moving here two years ago, I've followed the list of rules given to us when we first arrived. Different items go in different bags. Glass jars need to be washed out, and plastic bottles need to be rinsed and have the labels removed. I don't mind the rinsing, but getting the labels off is a pain. I must have taken five hundred labels off our water and Diet Coke bottles (not to mention my husband's Mountain Dew bottles).
Then one day my husband came home from the landfill and said, "Shar, you don't have to take the labels off the bottles."
"What?" I asked. "Who said?"
"Tom. He laughed when I told him how frustrated you get with those labels. He said they take them off. It's part of their job, I guess."
"Are you sure?" I asked, not quite believing this good news. "The list says I'm supposed to do it."
"That's what Tom said—and he's the boss."
At first I felt guilty, throwing the bottles into the recycle bin without removing the labels. After all, I had to earn my right to the landfill, didn't I? But after a while, I enjoyed the fact that I didn't have to earn it. It was like an unexpected, unreciprocated gift.
Having someone else remove the labels made me think of the gift God gave us—but not nearly reaching its magnitude. He gave His Son and exchanged our sins for His righteousness—the gift of being whiter than snow, even though we didn't have to do a thing to deserve it. Our faith in receiving the gift was all that was needed.
Receive God's free gift and get a wonderful, freeing feeling.
(Photo courtesy of pixabay.)
(For more devotions, visit Christian Devotions.)
---
---