If we confess our sins, He is faithful and just to forgive us our sins and to cleanse us from all unrighteousness. 1 John 1:9 NKJV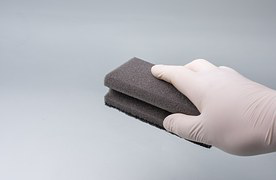 "Put some elbow grease to it!" he joked.
One summer afternoon after a family gathering, my cousins and I were washing dirty dishes. My dad stood in the doorway—arms folded across his chest with a grin on his face. He was always up to something.
I guess I thought this so-called elbow grease would make the task easier. I fell to my hands and knees and looked underneath the sink for the elbow grease. But there was no jar or canister with elbow grease labeled on it.
When I was a child, I had no idea what Dad meant by that old saying, but I do now. After living in our home for more than eighteen years, I have often said the person who designed this kitchen with white tile had no children. It looks nice, but it's hard to keep clean—especially with two young active boys running about.
One afternoon while we were gathered around the kitchen table, my son bent down to retrieve something that had fallen from the table. He noticed little specks of dirt and scuff marks. "This floor sure is dirty," he said. He knew I was picky about things being clean. It doesn't matter how much I sweep and mop, the dirt is still there. When standing or glancing from afar, the white kitchen tiles seem spotless—clear of any dirty particles or imperfections. But up close, they are less than perfect.
Christians may look good on the outside, but God knows us up close and personal. He sees our daily struggles, pains, and the scuff marks of life. When things are left unattended for a long period of time, they develop a buildup of dust and dirt. When we leave our heart unattended to the things of God, a buildup of hard-heartedness and distance from God develops.
Just as cleaning a floor and removing all of the dirt and grime brings it back to its spick-and-shine state, God will do the same for us. Allow Him to clean you up. He'll remove the dirty debris that weighs you down. And He won't just do a quick surface wipe. He cleans deeply to remove all sin and make us whole again.
(Photo courtesy of pixabay.)
(For more devotions, visit Christian Devotions.)
---
---