Since we have these promises dear friends, let us purify ourselves from everything that contaminates body and spirit, perfecting holiness out of reverence for God. 2 Corinthians 7:1 NIV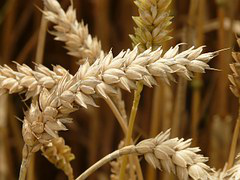 Allergies and asthma are annoying and can even threaten your life. I passed those traits to my grandson, Austin.
One day while Austin was outside playing, a nearby farmer started harvesting his wheat. The chaff cloud from the wheat blew across the field and set off Austin's allergies and asthma. By the time he went into the house, he could barely breathe. Immediately his mom took him to the emergency room.
Chaff is debris from wheat kernels. It is useless and in this case almost cost Austin his life. God warns us not to absorb chaff from this life because debris is not healthy. It clutters, clings, and keeps us from living the life God intends. Chaff in the form of drugs and alcohol can be life-threatening. Chaff can destroy and mar until we can no longer function.
My Sunday school class once discussed how wrong desires impact us. I realized the chaff that fills our lives is like the chaff that filled Austin's lungs. Only if we cling to God and allow Him to remove chaff and debris, can we live fully and completely. God's Spirit lifts us from our ungodly desires and temptations and allows us to live and breathe freely.
I want to remove the chaff and allow God's soul-changing food to enter. He has the true blueprint to help me live fully. If I search His Word and seek Him diligently and listen, I can embrace the precious food that offers life.
Seek the Lord's ways, and destroy the useless chaff in your life.
(Photo courtesy of pixabay.)
(For more devotions, visit Christian Devotions.)
---
---