If you keep yourself pure, you will be a special utensil for honorable use. Your life will be clean, and you will be ready for the Master to use you for every good work. 2 Timothy 2:21 NLT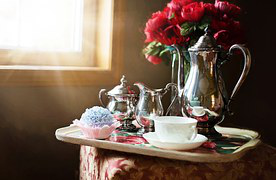 Keeping silver clean is no easy job.
As one-time antique dealers—and recipients of my mother's silver—my wife and I know a little about silver. One, it's valuable, and two, it's difficult to keep clean. Before my mother gave us her silver flatware, she sat for hours shining each piece until she could see her reflection. She then separated the various utensils and placed them in a plastic bag where air could not touch them. We have kept them in the same zip lock bags. We know if we expose the set to air, we'll soon have to repeat what she did before she gave them to us.
We've also owned silver tea sets which we displayed on antique buffets. When shined, they made an attractive addition to our antique furniture. But after a short period of time, tarnish crept over each piece. We either had to polish them and put them away or leave them out and shine them every few months. Leaving them out and tarnished wasn't a choice. Doing so ruined the looks of our décor.
Being used by God requires purity. Exposing silver to air means it will turn and eventually require cleaning. Living in the world exposes me to sin whether I want it to or not. Even monks and nuns who withdraw from normal life still face sin's inner pull. Cleaning silver can be challenging. So can keeping myself pure.
Keeping myself pure is made easier by realizing I have an inner power that guarantees success—God's resident Spirit. Holiness is not something I can accomplish on my own but is possible when I allow God to accomplish it in me.
Just as silver exposed to air requires regular cleaning, so does maintaining holiness. If I neglect tending to holy living, the tarnish of sin will take over. But if I spend time in spiritual disciplines and put obeying God's commands at the top of my list, my vessel will remain pure.
Do whatever it takes to keep your vessel clean.
(Photo courtesy of pixabay.)
(For more devotions, visit Christian Devotions.)
---
---