You will seek me and find me when you seek me with all your heart. Jeremiah 29:13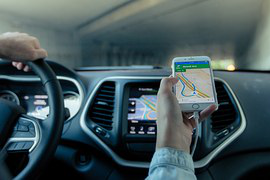 Make a right turn in 500 feet.
We've all been there. Our trusty GPS in hand, that mechanical voice telling us when and where to turn. Often, the thing meant to aid in our travels becomes an annoyance—as the disembodied sound counts down the miles and feet until our next move.
Although they can be annoying, a GPS makes getting places easier. I was reminded of this while on a trip to visit my mother. As she sat in the passenger seat, she became engrossed in a story that demanded her attention. She realized a few seconds too late that she'd failed to give me directions to turn. Fortunately, God saw us through a handful of near collisions.
My children have asked me how I can tell whether God is speaking or whether it's the desires of my heart.
"It's very much like a GPS," I say.
When we're connected with God through prayer and reading His Word, we hear His voice directing us to every turn. His direction will never surprise us since He often prepares us in advance.
Failing to be consistent in our time alone with God allows the static of everyday life to drown out His voice. Sharp turns invade our lives. Doubt and confusion distract us from where He wants to lead us.
Devotions and a daily prayer journal are great ways to ensure we don't forget to let God speak. They also help us learn to hear His voice in times of peace and trials.
Make whatever changes needed so you can hear God's voice.
(Photo courtesy of pixabay.)
(For more devotions, visit Christian Devotions.)
---
---