And [Moses] said to [God], "If your presence will not go, do not carry us up from here." Exodus 33:15 NRSV.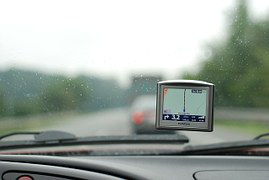 "It's fine. I'll use my GPS." That's what my friend said as she was driving me home. Even though I was with her, she preferred using the GPS rather than have me give her directions.
Initially, I wasn't paying attention to our route as she followed her GPS's instructions. But as we rode along, I realized we were going in the wrong direction. I got her back on course and we arrived after a long detour. She had put the wrong information in the GPS.
I've committed the same spiritual mistake. God is with me, but I chart my own path, certain I know what I'm doing. Then when I get lost and frustrated in my attempts to make it, I turn back to Him and ask what He wants me to do and how He want me to do it. Sometimes this means simply stopping and waiting for His timing. When I rest in God's presence and do things His way, peace returns, and my confidence level rises.
Moses realized he and the Israelites could not make it on their own. They needed God, along with the direction and light for their path He could give.
When you are surrendered to God, He is with you. His presence makes the difference when you consciously live in it and follow His direction. Without God's presence and guidance, things may appear okay for a while, but they will veer off course. And frustration will follow.
Live with the awareness of God's presence and receive His guidance. Then you will experience confidence and peace.
(Photo courtesy of pixabay.)
(For more devotions, visit us at Christian Devotions.)
---
---