What good is it, my brothers, if someone says he has faith but does not have works? Can faith save him? So also faith by itself, if it does not have works, is dead. James 2:14, 17 ESV.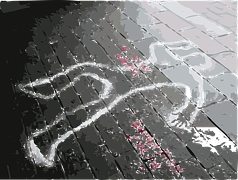 Attending an autopsy was one of my least favorite tasks as a detective.
Watching the coroner cut into a cadaver lying on a table wasn't exciting. I relived my youth in science class dissecting a frog, but it's different when it's a human.
The purpose of an autopsy is to determine the cause of death. Organs are removed, weighed, and measured. The skin is peeled from the scalp and the cranium is opened. Injuries are examined to determine lethality. Bodies are contorted in odd ways. The care and precision used by a surgeon in the emergency room is absent in the morgue because the patient is dead. I'm thankful there are medical examiners called to this profession, but the morose nature of their work has no appeal to me.
We all have a spirit that will dwell eternally in God's presence or not, depending upon what we do with Jesus' claims. James taught the early church that the body apart from the spirit is dead. Faith apart from works is the same. Without root there is no fruit.
Personal inventories are essential because God will perform a spiritual autopsy on Judgment Day. Believing God exists is insufficient. Even the demons believe—and shudder. James used Abraham as an example of genuine trust, indicating his faith was completed by his works.
Rather than pointing fingers at others, we need to account for ourselves. We must determine if we have faith. Performing a spiritual autopsy will reveal whether death is present or whether the Holy Spirit is working in our daily life. If there is evidence of faith, we qualify for an unblemished body in God's eternal presence when our earthly "tent" is taken down.
Perform a spiritual autopsy and see what it reveals.
(Photo courtesy of pixabay.)
(For more devotions, visit Christian Devotions.)
---
---