Yours, LORD, is the greatness and the power and the glory and the majesty and the splendor, for everything in heaven and earth is yours. Yours, LORD, is the kingdom; you are exalted as head over all. 1 Chronicles 29:11 NIV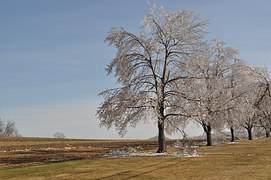 When we have no power source—or the wrong source, we suffer.
Under the weight of one particular ice storm, tree limbs, fences, and utility lines fell. Thousands lost heat, water, lights, and access to outside communication. Debris blocked driveways and roads. A fortunate few escaped, and some had power restored within hours. Others waited days or weeks. A small number lost their lives from hypothermia, traffic accidents, fires, and carbon monoxide poisoning.
Failing to connect with God's power brings greater loss. When life snows us under with the burdens of daily living, God walks with us, offering peace, comfort, and joy. When those burdens multiply with unexpected tragedies—disease, relationship issues, job losses, layoffs, addictions, and more—God provides solace for the moment and hope for the future.
God responds when we need someone to listen and when no one else seems to care. He sees, hears, and abides with unfailing compassion. The clutter of commitments can block progress in any direction, and we wonder how to dig our way out. God guides with words from the Bible and His indwelling Holy Spirit, reminding us about what matters most and what needs to go.
And after our physical strength wanes and we look death in the face, we can claim victory through the power of Jesus' resurrection and the promise of His return. Everyone encounters storms and interruptions of life, but no one has to face them alone.
Depend on God's never-failing power when you face the storms of life.
(Photo courtesy of pixabay.)
(For more devotions, visit Christian Devotions.)
---
---