Preach the word! Be ready in season and out of season. Convince, rebuke, exhort, with all longsuffering and teaching. 2 Timothy ‭4:2‬ NKJV‬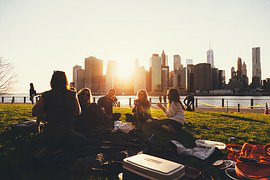 I was at the park on a Saturday evening, spending time with my family, when I looked to my right and saw a man eating on a picnic bench. Then I felt God's Spirit say, "Go over and talk to him. Invite him to church."
"Not now, God," my heart replied. "I'm tired. I've had a hard day of overtime in the hot sun on my day off. I'm with my family at the park, relaxing."
"Go talk to him and invite him to church."
"Okay, God."
I went to my van for a church flyer I use as ice breakers to initiate conversations about God. I tore the van apart, kicking myself because I usually have the flyers. But then I remembered they were in my truck.
Maybe my wife has one in her purse, I thought. But she didn't. Mentioning that I probably had one as a bookmark in the book I brought to read, she handed me the book. She was right. I may have been unprepared, but God never is.
I approached the man, handed him the flyer, and invited him to church. We began chatting. He told me God had been speaking to his heart about getting back in church and that he had been searching for a church. I also discovered he was first saved in a sister church I was affiliated with. He was excited. To him, I wasn't a guy giving him an invitation at a park. God was reaching out His arms to a prodigal son and calling him home.
The Bible says to be ready to preach the Word in and out of season. I wasn't prepared. Not because I didn't have any church flyers but because my heart wasn't prepared. My first response to God was "I don't feel like it because I'm busy with my family."
For Christians, there is no out of season. We are always on call and should always be ready for the leading of the Holy Spirit.
God's divine appointments await us around every corner. Be ready to answer them.
(Photo courtesy of pixabay.)
(For more devotions, visit Christian Devotions.)
---
---