And a man came and wrestled with him until the dawn began to break. Genesis 32:24 NLT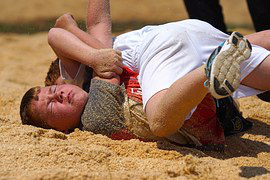 Jacob didn't know whom he was wrestling.
The story of Jacob wrestling the stranger takes place right before he reunites with his brother Esau, whom he left on the "wrong foot" (perhaps the same one he was holding as they exited the womb). Jacob means "grabber," and he had been doing it his entire life: trying to be the firstborn, stealing his brother's inheritance, and taking the firstborn's blessing. Now he faced a day of reckoning. He didn't know whether his brother would kill him and his family or forgive him.
While alone the night before, Jacob wrestled with a man. Perhaps he thought it Esau. At daybreak, Jacob realized it wasn't Esau, but God himself. His lack of trust in God's provision and will pushed him to scheme and grab. So he prays, "O God of my grandfather Abraham, and God of my father, Isaac—O Lord, you told me, 'Return to your own land and to your relatives.' And you promised me, 'I will treat you kindly.' I am not worthy of all the unfailing love and faithfulness you have shown to me, your servant" (Genesis 32:9-10 NLT).
Jacob is scared his brother is going to attack him, but God attacks him instead. It's almost as if God is making him face his worst fear. Jacob was at his point of reckoning. He could continue to manipulate and run away, or he could take a knee and submit to God's will—whatever that might look like.
We all wrestle with our own "Esaus," only to discover it's really God with whom we struggle. Our struggle might leave us wounded—like Jacob, but after the struggle comes the blessing.
Whatever your issues are, give them up so God's blessings can flow.
(Photo courtesy of pixabay.)
(For more devotions, visit Christian Devotions.)
---
---