In my Father's house are many mansions: if it were not so, I would have told you. I go to prepare a place for you. John 14:2 KJV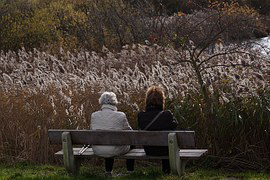 "I've got a mansion, just over the hilltop," we sang with cracked voices and tear-filled eyes.
Nancy lay almost motionless in her bed, surrounded by those she loved. We knew her time with us would not be long; we just didn't know how long. Believing Nancy could hear us, we sang to her about heaven—the home she longed for.
After Nancy's diagnosis of terminal cancer, she decided against chemotherapy. She realized her decision shortened the time she had left with her family and friends. Rather than spending her remaining days undergoing treatment, she insisted on living life normally. She vowed to be an example to all she met and confessed she looked forward to heaven where she would reunite with her daughter, Cindy, who had died earlier. Nancy was excited that she had received her "ticket home."
In spite of her prognosis, Nancy's attitude amazed us. Her smile radiated warmth. She laughed and lived each day to the fullest and was determined to get the most of her time left on earth.
Nancy's daughter Toni cherished each minute spent with her mother and drew encouragement from her unwavering attitude—a blessing Nancy passed on to her.
Now, here we sat at Nancy's bedside giving back to her a smidgen of what she had given us. Singing of heaven was a gift we could give. Nancy was ready. Jesus was calling. It was time for her to go home.
In Psalms 139:16, we are told, "All the days ordained for me were written in your book before one of them came to be." Our time is limited. Don't wait for news your life's end is near to decide how you will spend your remaining days.
Be a living example of God's love now.
(Photo courtesy of pixabay.)
(For more devotions, visit Christian Devotions.)
---
---