Draw near to God, and he will draw near to you. Cleanse your hands, you sinners, and purify your hearts, you double-minded. James 4:8 ESV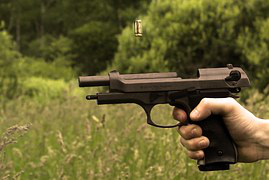 I never left the police firing range without cleaning my handgun.
"A dirty firearm is an inoperable weapon," barked the range master. While this is not entirely true, the chance of a misfire dramatically increases with a filthy weapon.
I once went target shooting with a group from church but had let a few days pass without cleaning my guns. Finally, the guilt overwhelmed me. I pulled the weapons out, broke them down, and cleaned each one inside and out.
This is also a biblical principle—not cleaning your firearms, but purifying your heart. Had the apostle James been a range master, he would have declared, "Draw near to your training, and it will never fail you. Cleanse your firearms, you slackers, and purify your barrels, you who think it is unnecessary." But he was a trainer of a different sort.
For those who can identify with the illustration, think of your spiritual life. Just as basic weapons training counsels users to keep their firearms serviceable by keeping them clean, basic Christianity does the same by admonishing us to "cleanse our hands," and "purify our hearts."
Break Free is a fabulous cleaning product for weapons. It works as a solvent and lubricant. The Bible is God's revelation to humanity, which is mired in relational sludge, grime, and oily residue of every sort. Scripture is a superb cleansing product for our heart. It also works as a solvent and lubricant, helping us break down what needs to be expelled and lubricating our life to help us flourish.
Let God's Word keep your life clean so you will never misfire.
(Photo courtesy of pixabay.)
(For more devotions, visit Christian Devotions.)
---
---