Finally, be strong in the Lord and in his mighty power. Put on the full armor of God. Ephesians 6:10 NIV.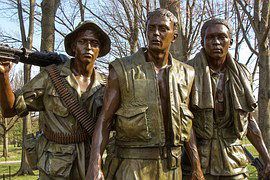 You live in a war zone, and so do I.
With so much suffering inflicted by human beings upon other human beings, it is easy to mistake our enemy's identity. While humanity is capable of carrying out horrific acts, the origin of these acts "is not against flesh and blood, but against the rulers, against the authorities, against the powers of this dark world and against the spiritual forces of the evil in the heavenly realms" (Ephesians 6:12).
If our physical eyes could see what is happening in the spiritual realm, we would have no need for combat video games or movie thrillers to feed our need for action. When we witness global wars, murders, broken marriages and families, and child abuse, we see only the result of Satan and his army fighting for the souls of people—and he appears to be winning.
Jesus said, "The thief's purpose is to steal and kill and destroy. My purpose is to give them a rich and satisfying life" (John 10:10 NLT). As in any war, when conflict arises, we have to choose which side of the conflict our values align with. Every heinous act is the result of someone choosing to do the enemy's work. Good deeds and loving actions are the product of someone deciding to seek the heart and mind of Christ. Remaining neutral is not an option.
The battle begins in the mind. The apostle Paul tells believers to "Put on the full armor of God." Battle armor serves two purposes: defensive protection and offensive power. We can advance in victory rather than employ defensive mechanisms and retreat. In Christ, we are mighty warriors. Putting on the full armor means taking on the characteristics of Jesus: truth, righteousness, peace, faith, salvation, prayer, and the Word of God.
Be ready for the battle that is sure to come your way—today and every day. While the fight on earth rages for a time, Jesus has won the war for eternity.
If Satan's winning is what you see, put on your spiritual 3D glasses and see the truth.
(Photo courtesy of pixabay.)
(For more devotions, visit Christian Devotions.)
---
---