This Book of the Law shall not depart from your mouth, but you shall meditate in it day and night, that you may observe to do according to all that is written in it. For then you will make your way prosperous and then you will have good success. Joshua 1:8 NKJV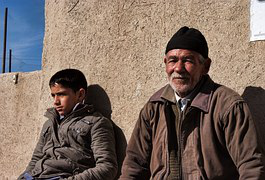 Finding our heart's desire is a mountain-climbing experience full of dangers, fatigue, and walking with blisters.
One of my grandchildren accompanied me to the bank. I was grateful to get to know him better and buy him an ice cream cone. When we drove up to the drive-in window, he asked, "Papa, is this the money store?"
He thought all I had to do to get money for ice cream was ask the lady for as much as I wanted. When I explained I had to give her money first and then she would keep it for me until I needed it, he said, "Oh!" He had learned a bit about life.
I thought, "Precious little guy, you have taught Papa we learn about a successful life by small lessons."
Learning about success is a process—not a perfect condition. Often, we learn the hard way. Then, after we find success (the top of the mountain), we must be careful not to slip or get carried away by strong winds, pushing us over the edge.
God taught Joshua prosperity and success were anchored in learning about what Almighty God says about living. But he couldn't stop at learning. He had to live as God told him to.
Spiritual learning and living is an applied psychology because it goes beyond philosophy and is characterized by objectivity. A person who follows the prescription for anxiety given in Philippians chapter four finds the objective results of peace that passes understanding. Peace comes from a relationship with Jesus who said if we come to Him, He will give us peace with an eternal flavor.
Find success by abiding in a loving relationship with Jesus which is guaranteed to produce fruit.
(Photo courtesy of pixabay.)
(For more devotions, visit Christian Devotions.)
---
---