In Christ Jesus, then, I have reason to be proud of my work for God. Romans 15:17 ESV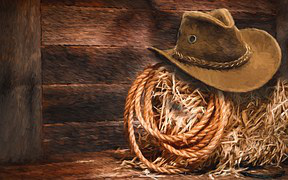 To some, W-O-R-K is a four letter word. Others view it as what makes them who they are. Many athletes are defined by how they play and who they play for, but a cowboy is a cowboy—something that never changes.
During an argument, someone said to me, "That hat don't make you a man." They were correct. A hat, boots, or shiny belt buckle does not a cowboy make. What makes a cowboy is the honest work he does, and the way he lives his life.
Work isn't always pleasant or glamorous. Jobs can be routine and boring. But we do our work to the best of our ability and collect our pay at the end of the week. If we fail to perform our boss' expectations, we may find ourselves in the office or looking for a new job. Many cowboys work because they love it and wouldn't do anything else. Despite the hard chores and long hours, it's something they love, and they never yearn to work indoors—or at an office from nine to five.
As we begin living for Christ, we discover a new purpose for our talents. We may even develop new abilities in God's service. Our vocation for Christ becomes bigger than who we are.
New believers don't usually change jobs or run to the mission field. Instead, they work the job they have, and from there God uses them as they share His grace and their faith with co-workers. God works through us at our jobs and with our families. It's like ham and eggs. For the chicken, it's just another day on the farm, but for the pig, it's a lifelong commitment.
Living for Christ is a daily obligation. Begin each day with His Word on your mind, and work at your relationship with Him.
(Photo courtesy of pixabay.)
(For more devotions, visit Christian Devotions.)
---
---