But by His doing you are in Christ Jesus. 1 Corinthians 1:30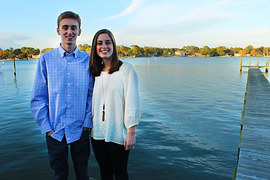 I was the sole believer in my immediate family for almost thirty years.
Since 1987 when I committed my life to Jesus Christ, it has been a lonely—and sometimes discouraging—journey. My family did not understand my newfound faith. I was accused of being "brainwashed" and called a "fanatic." My Dad even threatened to kick me out of the house if I left the mainline denomination of my raising.
But my fervor for my Savior never waned. I persevered alone, enduring insults and mockery. And my dad eventually disinherited me, not wanting to face the possibility of his money going to "that church."
I longed for one of them to commit their life to Christ and join me on this wonderful journey. At times, it seemed like it might happen. One of them would go through a really tough time, reach a low point in life, or even hit rock bottom. I would think, This is it. Surely they'll see their need for You now, Lord. But they didn't. As the years passed, I began to lose hope and didn't pray for their salvation as often as I should have.
Then a miraculous thing happened. After a devastating event that left my younger brother thoroughly humbled and humiliated, he surrendered his life to Jesus. He had finally seen his need to be saved. And the Lord graciously allowed me to play a part in his conversion by answering all his heart-searching questions and comforting him during that terrible time. It was a long year of painful consequences for him, but also a year of tremendous spiritual awakening and growth. He followed his decision by getting baptized on Easter morning.
I am overwhelmed by this amazing gift from God. My baby brother, at the age of forty-seven, is now my forever sibling. I've learned God is sovereign, even in the timing of a person's salvation. We cannot rush it. Psalm 18:30a says, "His way is perfect."
If you're waiting for the salvation of a loved one, don't lose faith. Trust God's perfect way and timing.
(Photo courtesy of pixabay.)
(For more devotions, visit Christian Devotions.)
---
---