Then the angel said to me, "Write this: Blessed are those who are invited to the wedding supper of the Lamb!" Revelation 16:9 NIV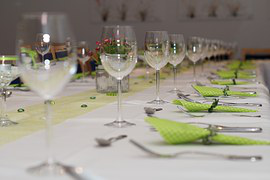 I love a good meal.
When my grown children visit, our main entertainment is cooking. We create a dish together and then have the luxury of sharing the meal. Our times of food and fellowship are priceless.
For my 50th birthday, my children threw a small dinner party for me with our best friends, complete with place cards and my favorite entrée of coconut shrimp. Desert was crème brulee, a taste of heaven.
One day there will be a better banquet—the best banquet at the greatest venue—heaven. The bride of Christ will sit down with King Jesus at a banquet. He will provide all the food and even our clothes. That's living.
But there is a catch. You have to accept the invitation. In Luke 14:15-24, Jesus told about a man who threw a great feast and invited the "Who's Who" in town. All of them made excuses: "I'm too busy," or "I just got married." The man told his servants to invite the down-and-outs—the poor, handicapped, drifters, and homeless. They came because they realized their need.
Jesus said in Matthew 5:3, "Blessed are the poor in spirit, for theirs is the kingdom of heaven." The invitation is open to all who realize they need a Savior. While free to us, it cost Christ His life. A place card is there for me. Not because of any good I've done, but because Christ paid the price for my sin. My place card is written in His blood. So is yours.
I look forward to seeing many there—even though I don't know all the faces now. Plenty of time to learn those in eternity.
If you haven't responded to Christ's invitation, there's still time.
(Photo courtesy of pixabay.)
(For more devotions, visit Christian Devotions.)
---
---