Humble yourselves, therefore, under God's mighty hand, that he may lift you up in due time. 1 Peter 5:6 NIV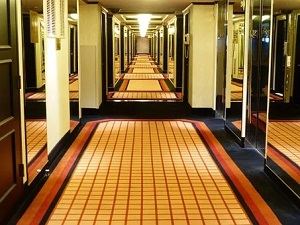 I packed our bags, prepared and practiced my workshop presentation, and checked that everything in the house was in order.
My group loaded our luggage, enjoyed our drive to the motel, unloaded the car, and stood in line to check in. But when I gave the clerk my information, she said "I'm sorry. I don't see your name." I spelled my name, and she checked again. "Oh, here you are. We have you down for next weekend."
"You're kidding," I said. I told her I was with a group, so she checked other names on our list. Sure enough, all were listed for the following weekend. My mind scrolled through the challenges of correcting the motel's mistake. Then the manager pulled the reservations contract, and I verified online conference information. They were right. I was wrong.
So, we picked up our luggage, loaded the car again, and drove home—embarrassed, but a bit wiser. I had checked and double-checked everything under my control. However, I failed to double-check the date established by the one in charge.
We often do this in our relationship with God. We see a need. We sense God's leadership, but then barrel ahead in our own power. We fail to consult the One in charge for divine direction and timing. Our results often prove more devastating than a bit of embarrassment and inconvenience. By acting at the wrong time, we may undo positive steps made by those before us or put stumbling blocks in the paths of those who come after us.
Instead, if we begin each day with humility, recognizing God's omniscient schedule and His direction, everyone benefits. We have no need to seek forgiveness for dragging our feet or running ahead of God's perfect plan. Those we encounter receive the best we can offer. We close each day knowing we followed where and when God led.
Allow God to lead you to the right place at the right time.
(Photo courtesy of pixabay.)
(For more devotions, visit Christian Devotions.)
---
---