But when this happens, says the Lord of Heaven's Armies, I will honor you, Zerubbabel son of Shealtiel, my servant. I will make you like a signet ring on my finger, says the Lord, for I have chosen you. I, the Lord of Heaven's Armies, have spoken! Haggai 2:23 NLT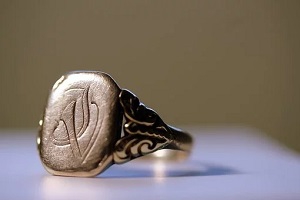 After I became a Christian in 1973, I sensed God had something for me to do.
As I prayed about my calling, the word signet came to mind on numerous occasions. I had no idea what God was saying to me. I looked for the word in the Bible and found God used it to confirm a person's calling. This piqued my interest and reinforced that God was leading me into ministry. Not long afterward, I joined Youth with a Mission and worked as a missionary for seventeen years.
God called Zerubbabel to a task, and he became like a signet ring on God's finger. A signet ring represented authority and was used by a king to sign documents or give authenticity to proclamations and edicts. Jesus is the one great signet ring on the Father's hand. All authority has been given to Him in heaven and on earth.
When God calls us and we obey, we become like a signet ring on the hand of Christ. Christ's authority rested on submitting His will to the Father's. Our authorization rests on the subjection of our will to that of Christ's. Christ wears our ring to accomplish His will, not ours.
Jesus sealed His authority when He chose the Father's will rather than His own on the cross. In the Garden of Gethsemane he prayed, "Father, if you are willing, please take this cup of suffering away from me. Yet I want your will to be done, not mine." Christ confirmed His standing through one momentous event on Mt. Calvary.
Our stance emanates from a series of events where our will becomes progressively subservient to God's. Our signet ring on the hand of the Father has great authority when our heart's desire is like that of Jesus in the garden: not my will but Yours.
If God has called you to a task, God has authorized you to act and speak on His behalf.
(Photo courtesy of pixabay.)
(For more devotions, visit Christian Devotions.)
---
---