The LORD will keep you from all harm - he will watch over your life; the LORD will watch over your coming and going both now and forevermore. Psalm 121:7-8 NIV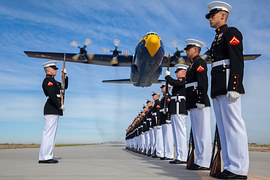 "We are flying on an overbooked flight. If you are willing to give up your 8 a.m. seat for a later flight, please see us at the desk." The announcement rang through the airport P.A. No one in the waiting area raised a brow.
Again, the flight supervisor made an announcement. "As you can see, we have 22 new Naval Academy graduates with us today. Thank you ladies and gentlemen for your service. Again, if anyone is willing to give up their 8 a.m. seat for a later flight, please see us at the desk."
The waiting area at the gate erupted in cheers and applause for the 22 graduates, but not one person offered to give up their 8 a.m. seat.
I stood and gazed down the line of new recruits. "Excuse me, are all these recruits needing seats?"
The woman at the desk nodded. "They've been called up immediately. We have to get them to Charleston by evening."
"I'm in no hurry. I'm happy to hand over my seat." The attendant at the counter thanked me and asked me to wait.
"I'm not sure we can shuffle this many seats," she whispered to her associate. It sounded like an odd situation. I've flown from Chicago numerous times when boot camp has ended and soldiers get their orders. I've never known them to be required to travel as a group. The attendant made a third announcement. Still no response.
I found my seat in the waiting area next to a young recruit and, after chatting with him, learned the recruits were heading to officer's school. During this high alert time, the government wanted them traveling as a group for their safety.
Their safety? It suddenly occurred to me what a serious state our nation was in when our new officer trainees had to be protected themselves.
"What made you join the military?" I asked.
"I wanted to be someone who made a difference, ma'am. I want to prepare to defend this country. I had a mind to go to college, but the Lord impressed on me this need."
"Thank you for protecting me and my family." I jotted down a promise from Psalms and handed it to him. "You keep this close." He smiled, stuffing my business card with the Scripture into his wallet.
David gave us such hope in his writings. Throughout the Psalms, he reminds us of the promises of a faithful and loving God. He held tight to his personal experiences, knowing God protected him and kept him from harm—watched over him. The hope found in this promise gave David a little extra boost. For us, it's hope.
The flight miraculously had enough seating. I'm not sure how. No one else stepped forward to give up a seat, but God is God. Seating has never been an issue for Him. As we deplaned in Atlanta, the officer trainee stopped next to me. He smiled, patted his wallet, and walked away.
I'll never see that young man again, but the opportunity to offer him a promise went into his wallet that day. I'm grateful for his service and for the service of the thousands of men and women who sacrifice for "one nation under God …"
Pray for our military, for their safety, and for this nation. Be grateful for our freedom, and be prepared to defend it.
(Photo courtesy of pixabay.)
(For more devotions, visit Christian Devotions.)
---
---