Dedicate your children to God and point them in the way that they should go, and the values they've learned from you will be with them for life. Proverbs 22:6 TPT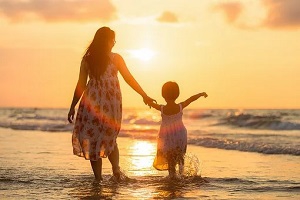 "Mom, I can't believe just because you do, or because you tell me to. I have to find out for myself. To know why I believe. Or not."
It was one of the boldest statements my daughter had ever made as a teen. I could picture her throwing everything her dad and I had ever taught her out the window and walking away from her Christian roots … away from God. My heart threatened to shatter into a million pieces until I heard that still, small voice inside: Trust me. I've got this. And He did.
Letting our children go is never easy, whether we're teaching them to ride a bike without training wheels, allowing them to drive the car for the first time, or sending them off to a college hundreds of miles away. But we must allow them to learn for themselves, even if it comes the hard way. Just like the mama bird pushes her babies out of the nest when it's time, our children must learn to fly.
In this post-modern society, our children are taught to question everything and not to take anything at face value—or accept what their parents believe. They are encouraged to be independent freethinkers who are not afraid to rock the proverbial boat. This used to make me fearful for the future well-being of my children and grandchildren, but no longer. God makes promises in His Word and when we dare to believe Him, He is faithful to bring those things to pass. Our job is to love and pray.
My daughter had to find her own path … to become spiritually grounded on her own terms in God's ways and in His Word. Today, if you ask what she believes and why, she can answer with assurance because her relationship with the Lord is strong. And it's her own—not a shadow of her parents' relationship.
If you have children, especially small ones, let them see your authentic Christian lifestyle. They learn much more from what we do than what we say. Talk to them about the Lord without being pushy or preachy. Pray for them daily. Pray with them. And commit them to God, trusting Him to manifest His glory, grace, and presence in their lives and to draw them close to Him.
What are some ways you can help ground your children in God's ways?
(Photo courtesy of pixabay.)
(For more devotions, visit Christian Devotions.)
---
---