He reached down from on high and took hold of me; he drew me out of deep waters. Psalm 18:16 NIV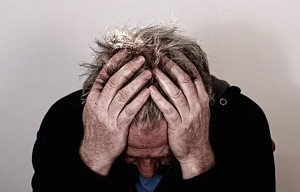 When I'm feeling less than secure in my relationship with my heavenly Father, I picture Him drumming His fingers while I'm praying, wishing I'd hurry up.
In those insecure seasons, I wish I could believe God actually leans in and compassionately listens to every word—especially when I'm seeking His help to overcome a sin or bad habit that has ensnared me.
Although David wrote about physical deliverance from the murderous King Saul, God also stands ready to deliver us from our sin. We can read this verse and picture God actively rescuing us from our ensnarement—that habit we can't seem to escape.
We all have sins that harass us. We think we have them conquered, only to discover they creep back into our life. At first, only now and then, but later, more often. After a while, we can't help but wonder if we're wasting God's time with our constant "Sorrys" and "I'll never do it agains." We're ashamed of acting disrespectfully to our husbands. Or regret all the nights we lose sleep by watching too much TV—especially those programs we think Jesus would avoid.
We're desperate to make the New Year a better one, but after praying about our issue ad nauseam, we find it hard to voice a new prayer that will get God's attention.
Despite our insecurity, we need to approach God and repent. Again. A good prayer is, "Father, I'm drowning in my sin. Hold me. Reach into my thoughts, my will, and my heart and draw out the hate (or whatever sin we're struggling with) that's destroying me."
God commands us to be holy, but He isn't shouting "Stop sinning! Be holy!" When we repent, He listens to our every word, reaches into our lives—into our messes—and pulls us out of the many waters. As often and as compassionately as we need Him to.
When you mess up, go to God. He's always there to listen.
(Photo courtesy of pixabay.)
(For more devotions, visit Christian Devotions.)
---
---