Go in the strength (gifts, talents) you have...for I am sending you and I will be with you. Judges 6:14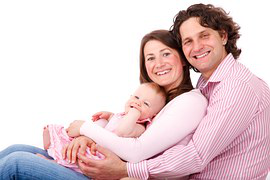 I never planned on being a mother.
Though I now have F-O-U-R children, I remember asking my husband before our marriage ceremony, "Are you SUUUUURE you're okay with not having children?" Five years later, God showed us He had other plans. Of all people to choose to be a mother, I was sure there was some mistake. God must have been confused.
Gideon probably thought the same thing. While threshing wheat in a winepress, an angel of the Lord told Gideon he would "strike down all the Midianites." He even saluted him as "mighty warrior." But Gideon was a farmer. Oops. Gideon may have laughed, but God was sincere. Gideon felt the need to remind God, "But my clan is the weakest in Manasseh, and I am the least of my family." The lowest of the low in terms of athletic feats and expectations. The underdog.
But God was not confused. He told Gideon he would be successful, not because of his traits or abilities but because "I will be with you." I'm sure Gideon felt overwhelmed and confused. He had a lot to learn in a short amount of time. But in God's time and in God's fashion, He supplied Gideon's needs.
Like Gideon, I asked the Lord many times if there was a mixup. "Why me?" I wasn't organized, and I didn't feel I was a nurturing person. I didn't desire the calling being prepared before me.
Sometimes the task God has before us seems daunting—a weird fit—one we might never choose. But God doesn't see how man sees. He sees a king in a shepherd, a queen in an orphan, a mighty warrior in a lowly farmer, and a mother in an independent woman. The calling God has for us might look nothing like our current role or situation, but it is still His call.
When doubts arise, look no further than God's promise to be with you.
(Photo courtesy of pixabay.)
(For more devotions, visit Christian Devotions.)
---
---