Listen and hear my voice; pay attention and hear what I say. Isaiah 28:23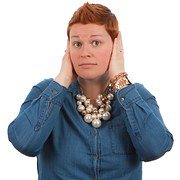 I heard the Holy Spirit but out of fear didn't listen. Now I was in trouble.
God told me some time ago He wanted me to lay hands on people, but specifically said, "Only when I tell you." I was in the middle of worship at my church when the pastor stopped the music and had everyone pray for what seemed like thirty minutes to usher in the anointing.
I heard the Holy Spirit say, "Go lay hands on your friend." Though I heard Him clearly, I was frozen in my position. He persistently said it three times, and I began making excuses. "Worship is about to end. What if she doesn't want me to lay hands on her?"
That's when I saw my husband reach for my friend's hand and pray. I messed up, I said to myself and walked over to join them. The Spirit moved like never before, and we knew that's what she needed at that moment. Upon returning to my chair—crying and still complexly filled with the Spirit, I heard God say, "When I tell you to do something, do it, or I will use someone else."
God wants to give us power to do His work, but if we don't pay attention to His promptings, He will use someone else to reach the world's hurting people. Many times, we think it is our conscience speaking, so we don't listen out of fear of mistakes or doing something God has not told us to do. But the more we read the Word and fill our lives with the anointing, the more we will hear God's promptings and know it is Him speaking.
The time has come when God is going to do the supernatural through His children. All He wants is for us to listen for His voice.
Ask God to allow you to hear Him and fill your mind and heart with His Word. Then move on His behalf. It is a wonderful experience.
(Photo courtesy of pixabay.)
(For more devotions, visit Christian Devotions.)
---
---