And who is my neighbor? Luke 10:29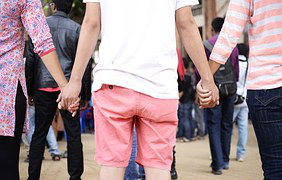 Oh no! We were ten miles from the Allentown airport when the battery light on the car started flashing.
We coasted to a gas station across from the airport before it died. My husband offered to pay a man at the gas pump to take my mom to the gate to catch her flight. "No problem. My wife is headed there right now to return a rental car," he replied. That was only the beginning.
For the next two hours, the man and his family stuck by our side—in the cold, icy rain—trying to help us. It became obvious we would have to get towed seventy miles to our mechanic's garage. Rather than leaving us, the family insisted on staying until the tow truck arrived. In the warmth of their running car, we waited and exchanged stories. All I could think was, How do they have time to do this? We're strangers. We barely speak the same language (they were Hispanic). Yet they were showing us such kindness.
I've thought a lot about the parable of the Good Samaritan since that night … of the priest and Levite who passed by the man who had been robbed, beaten, and left for dead. Life was about them. They had places to go and people to see. I'll bet they were busy. Perhaps their lives were full of sentences with no commas—too full to be interrupted. Probably not much different than mine.
The Samaritan was different. And so were these folks. Because of the time they took for us on that cold wintry night, our lives were touched and changed. We were challenged … to slow down and consider God's undeserved mercy.
If you haven't been a Samaritan on the loose, it's not too late to start.
(Photo courtesy of pixabay.)
(For more devotions, visit Christian Devotions.)
---
---