In fact, though by this time you ought to be teachers, you need someone to teach you the elementary truths of God?s word all over again. You need milk, not solid food! Anyone who lives on milk, being still an infant, is not acquainted with the teaching about righteousness. Hebrews 5:12-13 NIV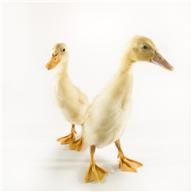 "There's another FTL," I told my husband. That's our nickname for the "Failure to Launch" baby birds who refuse to go out on their own.
Our backyard is wooded and we see a lot of wildlife passing through. This summer we've had several FTLs. Although they are grown, flying well, and capable of surviving on their own, they follow their parents around, flapping their wings, and crying to be fed. Most of the time the parents seem to be patient and we've seen them feeding these FTLs for several days. But recently we saw one baby flap its wings and cry pitifully to be fed, and the parent leaped toward the baby and squawked as if to say "Enough!"
Sometimes I wonder if God ever feels like telling us "Enough!" when it takes us so long to understand His Word and how to live by its principles. The writer of the book of Hebrews was addressing this problem of not progressing spiritually. He was telling them "Enough, you need to do better." I'm sure God understands that some people will progress faster than others, but He does expect them to mature eventually.
Perhaps some of us do not understand that we grow best by reading and studying the Bible for ourselves and not just depending on our pastor or someone else to feed us. As Elizabeth George has said, "Only through routine, regular exposure to God's Word can you and I draw out the nutrition needed to grow a heart of faith."
God has given us His Word as an instruction book for living. But if we fail to read it, how can we know how God wants us to live? If we don't know God's promises, we can't claim them. If we don't read about the many people who struggled with problems, like King David, we will never know how to cope with our own struggles.
Open your Bible and seek out the principles God has put there to help. Press on to maturity and develop a strong faith.
(Photo courtesy of office.microsoft.com.)
( For more devotions visit us at www.christiandevotions.us )
---
---