Now which of these three would you say was a neighbor to the man who was attacked by bandits? Luke 10:36 NLT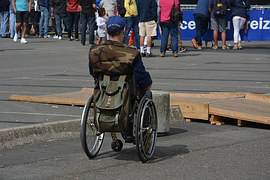 A legless man fell into the middle of a busy road. Cars swerved around him as he flailed helplessly—but no one stopped.
My husband knocked off work and traveled along a busy back road. On the corner, he noticed an older gentleman in a wheelchair attempting to enter the intersection. His wheel caught the pavement's edge, toppling his chair and throwing him a few feet.
Aware of the danger the man faced, my husband looked at the three cars in front of him. He waited for one to stop. None did. All three veered to the left and continued on their way. Approaching the intersection, my husband pulled to the side and helped the man up and back into his wheelchair.
Each of the drivers may have had a good reason for passing the man. Maybe they had an appointment or a family situation that couldn't wait. Perhaps they worked the evening shift and feared arriving late. Whatever the reason, they didn't stop.
The lesson of The Good Samaritan is simple: When someone is in need, we can walk away or stop and help. Sometimes it's easy to fall into the comfort of our Christian walk. We miss the opportunities God places before us to show kindness to others.
If we ask God to open our eyes for ways to offer help, we can kick-start this Good Samaritan attitude in us. Learning to see disruptions as a blessing—a chance to serve the Lord—will help keep negative thoughts about the delay out of our mind.
God gives many opportunities to show Christ's love to others. Some bring inconveniences that make us stop and value relationship over time and money.
Allow God to use you as the next Good Samaritan.
(Photo courtesy of pixabay.)
(For more devotions, visit Christian Devotions.)
---
---