Saul [a] handsome young man as could be found anywhere in Israel . . . was a head taller than anyone else. 1 Samuel 9:2 NIV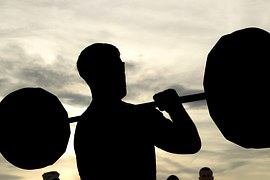 Our teammate's size transformed a mountain into a molehill.
We tossed meaningful smirks at the other teams in the Edge Games (an Olympic-like competition between youth groups). Our giant would gain a victory in any test of strength. When the announcer called for contenders for a "mystery activity," we shoved the titan to the front. Another lanky teammate, a foot shorter than our giant, asked to participate instead. We ignored him. The announcer revealed the activity and unfurled a crawl-through tunnel. The diameter of the GigaTent was the same size as one of our goliath's thighs. There was no way he could fit.
Like the Israelites, we elected a Saul to lead our team. We rashly chose an unfit leader based on his physical strength and magnitude. Our group had another candidate, the lanky teammate, who would have guided us toward victory. But we overlooked him because of his lack of physique.
Aside from my youth group, I often elect Saul over God in my life. Saul could appear in the form of a boyfriend who does not believe in God. Or perhaps Saul emerges in working eighty-hour weeks in order to secure an ample paycheck. Sometimes, we trust in the Sauls rather than God because they appear to be a head taller than the alternatives. Then we ignore the lanky options, such as not only offering our finances to God, but devoting our time to Him as well.
Whether I designate a leader for an athletic event or devote my time to some activity, I need to discern whether I cherry-pick a Saul or choose God.
Elect God for your team captain today.
(Photo courtesy of pixabay.)
(For more devotions, visit Christian Devotions.)
---
---