From the ends of the earth I call to you, I call as my heart grows faint; lead me to the rock that is higher than I. For you have been my refuge, a strong tower against the foe. Psalm 61:2-3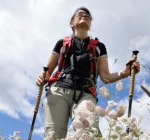 My family recently spent the week hiking in the red rocks of Colorado Springs. It was hard, deliberate work to watch our footing, scout for rattlesnakes, and catch our breath at the high elevation. Our hearts pounded wildly from the exertion and heat. The sun scorched our shoulders and parched our lips as we picked our way through the boulders, climbing up until we had reached the top-most rock. There we stood victorious. Until we saw another rock formation looming ahead, even taller than the last. Off we ventured again, with me always trailing in last place.
Why did we did we keep climbing?
God's masterpiece was spread out around us like a 3-D canvas. Huge, jagged monoliths soared in the distance, surrounded by clusters of Joshua trees, cacti, and tiny wildflowers. We were impressed as much with the white columbine as we were with the Balancing Rock or the Siamese Twins. Although I'm not what you'd call a real hiker, when I'm surrounded by God's creation, hiking becomes an act of worship for me. I am consumed, soul and body, with the grandeur of who God is and what He is capable of doing in my life.
Psalms reminds us of God's glory and faithfulness found through His creation. The writer teaches us that in His bounty of artistry, He is mighty. . .our refuge and our strength. Through nature, I look upward and forward. I am reminded if God can fashion landscapes like this, He is certainly able to direct me on a path around danger and toward righteous living.
I have to keep moving forward, regardless of the difficulties in my life or the strain it takes on my body. God's presence surrounds me, and His Spirit encourages me to keep climbing. Only when I reach the highest rock will I have the perspective to see that it was worth the climb. Seek after His glory and climb.
---
---