Do not be terrified; do not be discouraged, for the Lord your God will be with you wherever you go. Joshua 1:9b NIV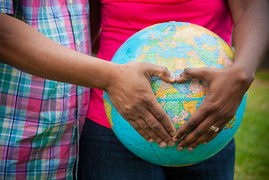 For the good of her baby, she moved on with her life.
My friend, Joan, chose to move on after a heartbreaking period in her life. She had become pregnant while single, and the baby's father had deserted her. Unable to provide a home and necessities for her baby, she made the difficult decision to put her son up for adoption. He was adopted by a financially comfortable couple.
Jacob was married to sisters, Leah and Rachel. Rachel was Jacob's favorite wife, and he favored her over Leah. As Rachel gave birth to her second son, she died in the birthing process. Jacob was left to grieve for the woman he had loved.
After a time of mourning, Jacob moved on by leaving the place where Rachel's life had ended and moving to another land. After Jacob chose to move on, God continued to guide him throughout his life. He became the father of twelve sons and was blessed with a long life.
You may have been forced to move on when your spouse died, leaving you alone after many years of marriage. Or perhaps the comfortable home where your children were born and grew up became too large. Silence echoed through each empty room, and you made the hard decision to move to a smaller home or an assisted-living apartment.
Several years after Joan surrendered her son for adoption, she became a Christian. Today, she is a senior citizen and a vibrant Christian.
When we must make difficult decisions to move on, God will guide us in our life's adjustments if we surrender our will to Him and allow Him to guide us. Jeremiah 29:11 reads, "For I know the plans I have for you", declares the Lord, "plans to give you hope and a future."
Trust God's leading in all of your moving-on times.
(Photo courtesy of pixabay.)
(For more devotions, visit Christian Devotions.)
---
---