Love bears all things, believes all things, hopes all things, endures all things. Love never fails. 1 Corinthians 13: 7-8 ESV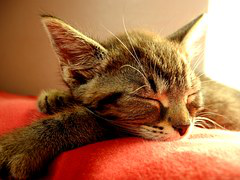 My nine-year-old daughter loved cats, just like her dad. I never had a long term pet. Animals made me nervous.
When a neighbor offered her a kitten, I said, "No!"
She begged and took me to see it. My heart softened, but the answer didn't change. Her warm brown eyes sought mine, "Please, Mom, I'll take care of it."
"We can't afford a cat. You'd have to pay for it," I said.
Her face glowed, as if she owned the calico already. My stomach lurched in anticipation of this unwanted addition to the household. She called her grandparents and aunts and uncles and told them if they wanted to give her a birthday present she'd like money to get a kitten.
And so the kitten arrived. When the bundle of fur snuggled against me and purred, my heart flooded with love. My daughter smiled. "Isn't she pretty, Mom? I knew you'd like her."
What I hadn't anticipated was the responsibility my daughter embraced in caring for Brownie. She never complained about scooping the litter box. She brushed the cat and reminded me to buy food and litter when they were low. She taught the younger children how to be gentle when handling Brownie and how to love unconditionally by putting up with the bad smells and occasional scratches.
When my daughter married, she took her cat to their new home. After each of her children were born, I watched her lavish love on them as she had on Brownie. Now she's instructing the children to be patient and kind to their fluffy family member. As they care for the cat, she purrs, warms their bodies on wintry nights, and cuddles their tummies when they hurt.
"Love bears all things, believes all things, hopes all things, endures all things"—even a daughter's pet.
Think of actions that will show love to your family—and by extension, God's love. The results may astound you.
(Photo courtesy of pixabay.)
(For more devotions, visit Christian Devotions.)
---
---