"Because he loves me," says the Lord. "I will rescue him; I will protect him, for he acknowledges my name." Psalm 91:14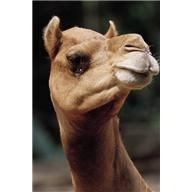 A camel is sure-footed and can see in the dark even though I cannot, That's what I kept telling myself.
We were told to "kill our flashlights" or risk blinding the enormous beasts we rode. Our caravan navigated up a rocky path that wound its way along the edge of Mt. Sinai. By sunrise, we hoped to reach the summit where a young minister among our group would deliver a message about God's protection.
Not long into our trip, my husband, riding the camel behind me, yelled, "Don't look down! Don't!" Thankfully, I took his advice. Otherwise, I probably would have panicked at the thought of sailing from my perch into a rocky ravine, to a certain death. Instead, I took a deep breath, exhaled slowly, and looked up.
The expansive, star-filled sky glimmered like buckets of rhinestones poured across black velvet. I relaxed and swayed to the stepping-rhythm of this animal who had made this same trek many times before without mishap. As we continued to climb, one of our Arab guides broke into song, his voice deep and mellow.
I could not understand his words, yet a peace filled my heart and I worshipped the Lord, Creator of the universe.
Think of a time when you were afraid and on the verge of panic. We have all experienced those moments. Ask God to calm your fears, concerns, or anxieties you may have this day, or those you have long harbored in your heart. Be assured of God's presence and protection.
Praise Him continuously, even when you are doing the most ordinary things: washing dishes, mowing the yard, doing another load of laundry, or riding a camel. Those are the times our minds can drift into the abyss of worry or fear before we realize what has
happened.
Stay alert. You don't want to miss being in His presence.
(Photo courtesy of office.microsoft.com.)
( For more devotions visit us at www.christiandevotions.us )
---
---